Over Three Decades of Live Theater
Theater Voices has been producing staged readings for Capital Region audiences for over three decades. With a dedicated working volunteer board, the inspiring talents of the area's best actors and directors and the enthusiastic financial support of our generous audiences, we have offered over 100 productions since 1989, all free of charge!
In the Theater Voices tradition, each play is fully rehearsed and staged, and performed script-in-hand with a minimal use of scenery and costumes.
COVID-19 update: Like most theater companies, we canceled the second half of our 2019-20 season in the wake of the pandemic. We're proud to be returning with a virtual theater production for Spring 2021, Rogues' Gallery, which will also serve as a fundraiser for our home base, Steamer No. 10 Theatre.
Join Our Mailing List
Please join our mailing list to receive occasional announcements about upcoming performances, auditions, and events.
Support Theater Voices
Theater Voices is a not-for-profit organization under IRS 501(c)(3).
Support is always welcome to help Theater Voices continue its season of plays and community outreach. See our Support page for details.
Wine & Dine for the Arts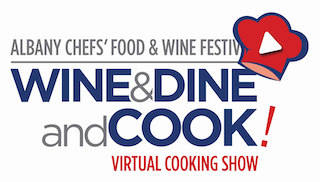 Theater Voices, a Spotlight Beneficiary of the 2020 Albany Chefs' Food & Wine Festival, isn't the only organization finding a way to come to you virtually during the pandemic! This year's festival is kicking off with a virtual cooking show on April 17, and tickets are now on sale. Click here to learn more.